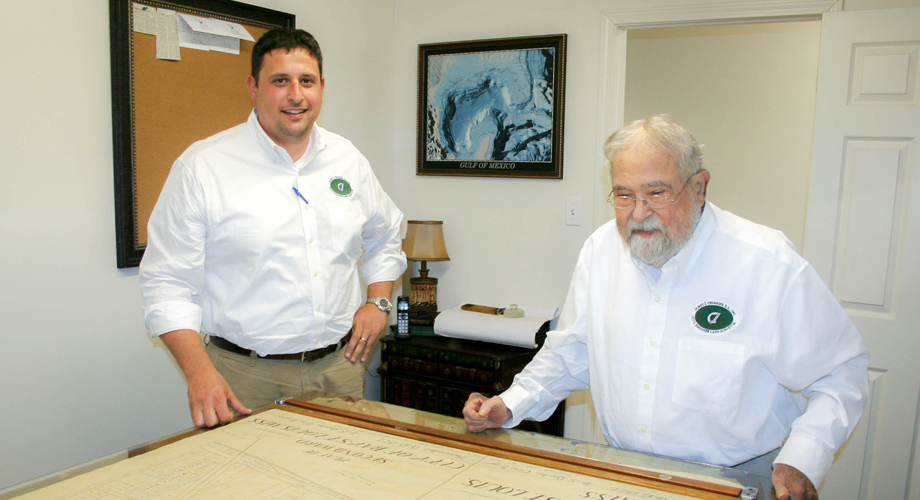 In 1971, James J. Chiniche, (JJC) opened a Civil Engineering and Land Surveying company in Bay St. Louis. His intent was to provide the residents of Hancock county a viable option for Civil Engineering and Land Surveying services. His objective was to keep costs and overhead low to help clients achieve their project goals without over spending on soft costs. This philosophy started in 1971 is still implemented here today.
In 2014, JJC entered a new partnership with his son, Jason. Jason graduated from Mississippi State with a Civil Engineering degree in 2001, along with an MBA in 2009 from the University of Southern Mississippi. Prior to the passing of James J. Chiniche in April of 2016, Jason had become Principal Owner and Project Manager. Jason has made it his goal to continue the legacy of providing Hancock County and surrounding areas the same viable option for Engineering and Surveying Services. He has expanded the scope of work to provide many disciplines of Engineering and Surveying, while still striving to keep costs and overhead low to help our clients.
➢ Jason Chiniche, P.E., M.B.A, C.F.M.
Project Manager/Principal In Charge
Lead Designer
Construction Management
21 years experience with Engineering Design and Construction Management
➢ Terry Moran, P.E., P.L.S.
Design Over Site
50 years experience with Surveying, Engineering Design and Construction Management
➢ Nancy Hoelzel
Project Manager/Project Engineer
20 years experience with Federal and State Agencies
MDOT LPA Certified
➢ Alex Bertagnolli
Degree in Drafting Technology
Drafting Technician
30 years experience with Engineering and Survey Drafting
➢ Beverly Foster
➢ Jamie Nesbitt
➢ Tyler Kirby
➢ Charles Hollingsworth
➢ Allie Ladner
Engineering Administrative Assistant
➢ Mike McGinnis P.L.S
29 years of experience with Surveying
Surveying Drafting Technician
➢ Buddy Clark P.L.S.
42 years of experience with Surveying
➢ Mike Russell
Survey Crew Chief
40 years of experience with Land Surveys
➢ David Kennedy
Survey Crew Chief
25 years of experience with Land Surveying
➢ George Goetz
➢ Destin Lucky
➢ Cody Gray
➢ Alex Hoelzel
➢ Alexa Renz
➢ Posha McCubbin